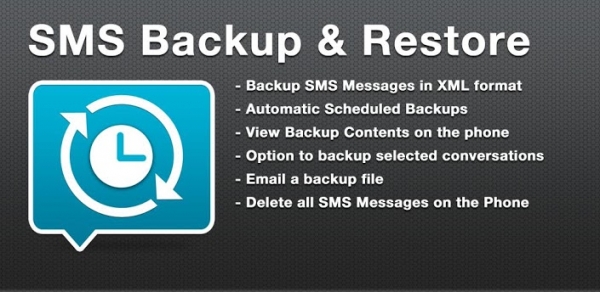 The newest software version of SMS Backup & Restore Pro 7.29
As you know Android phones in your contacts can easily by options Export to sd card or Export to sim card of your contacts on the memory card or SIM card backup so if in any way and as you delete contacts or a number of them were cleared to return all contacts with the Restore the copy back there.
But many of us, in addition to contacts, sms important that a person may also have to think of the loss or removal of them is a little bothered. But do not worry because they intend to introduce the Pro version of the software to back up your sms.
Features of this SMS Backup & Restore Pro:
Backups can be scheduled
To view the content of backup data
Stored in XML files
Ability to backup specific contacts messages
Changes in this version SMS Backup & Restore Pro 7.41:
What's New
V7.41:
– Fix for some HTC devices on empty Conversation List.
– Updated thanks to Gian Maria Calzolari Italian translations
– Added Serbian translations thanks to Milan ĐorÄ'evic
Description
A simple App to Backup and Restore SMS Messages. This is a Paid No-Ads version of the Ad-Supported Free App.
NOTE:
The backup is created locally on the phone by default unless you configure it to upload to Email, Google Drive or Dropbox. You are responsible for backup files and the files are not sent to the developer in any case.
On Android 4.4+ devices, if you have performed the Restore and the messages don't appear in your messaging app then:
- Open your messaging app and Disable SMS from Settings.
- Exit the app
- Open the app again and Enable SMS from Settings.
APP FEATURES:
- Backup SMS Messages in XML format.
- Backup created locally on the device with options to automatically upload to Email, Google Drive or DropBox using the Add-On app.
- Choose a scheduled time to automatically backup.
- Backup format is independent of the Android version so the messages can be easily moved from one phone to another, irrespective of the Android version.
- Option to select which conversations to backup.
- View/Restore all Messages or only selected conversations.
- Delete all SMS Messages on the Phone.
- Email a backup file.
- The XML can then be converted to other formats, and can also be viewed on a computer.
- Tested on Android v1.5 to v4.4.2
On newer phones with inbuilt storage the default backup location will probably be the internal storage card and not the external.
This is because the phone reports the storage that way.
If you intend to do a factory reset on the phone, please make sure you save/email a copy of the backup outside the phone before doing it.
Lots more info at http://android.riteshsahu.com/apps/sms-backup-restore
FAQs can be found at http://bit.ly/d9t7Jk
Please start the app at least once after updates so that the scheduled backups start working.
This App needs access to the following:
* Your messages: Backup and Restore messages. Receive SMS permission needed to properly handle messages received while the app is the default messaging app on Android 4.4+ devices.
* Storage: To create the Backup file on the SD card.
* Phone calls - Without this the Restore fails on some phones.
* Your social information: To display and store the contact names in the Backup file.
* Run at start-up: Start scheduled Backups.
* Control Vibration: To vibrate the phone when an operation is completed.
* Prevent Phone from Sleeping: To prevent the phone from going to sleep/suspended state while a Backup or Restore operation is in progress.
* Test access to Protected Storage: To create the Backup file on the SD card.
Icons designed by Vlad Kitanoski of www.vk-solutions.com