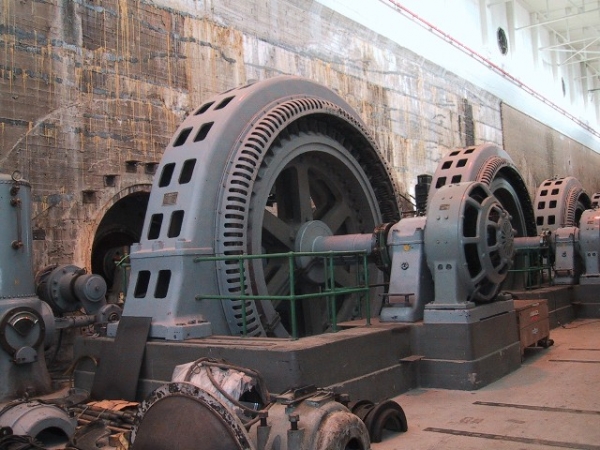 ELECTRICAL MACHINES
GATE SYLLABUS
Electrical Machines:
Single phase transformer – equivalent circuit, phasor diagram, tests, regulation and efficiency; three phase transformers – connections, parallel operation; auto-transformer; energy conversion principles; DC machines – types, windings, generator characteristics, armature reaction and commutation, starting and speed control of motors; three phase induction motors – principles, types, performance characteristics, starting and speed control; single phase induction motors; synchronous machines – performance, regulation and parallel operation of generators, motor starting, characteristics and applications; servo and stepper motors.
JNTU SYLLABUS
ELECTRICAL MACHINES - I
UNIT – I Electromechanical Energy Conversion:
Electromechanical Energy conversion – forces and torque in magnetic field systems – energy balance –energy and force in a singly excited magnetic field system, determination of magnetic force - co-energy – multi excited magnetic field systems.
UNIT–II D.C.Generators – Construction & Operation:
D.C. Generators – Principle of operation – Action of commutator – constructional features – armature windings – lap and wave windings – simplex and multiplex windings – use of laminated armature – E.M.F Equation – Problems
UNIT–III Armature reaction in D.C. Generator:
Armature reaction – Cross magnetizing and de-magnetizing AT/pole – compensating winding –commutation – reactance voltage – methods of improving commutation.
UNIT-IV Types of D.C Generators:
Methods of Excitation – separately excited and self excited generators – build-up of E.M.F - critical field resistance and critical speed - causes for failure to self excite and remedial measures.
UNIT–V Load Characteristics of Generators:
Load characteristics of shunt, series and compound generators – parallel operation of d.c series generators – use of equalizer bar and cross connection of field windings – load sharing.
UNIT-VI D.C. Motors:
D.C Motors – Principle of operation – Back E.M.F. - Torque equation – characteristics and application of shunt, series and compound motors – Armature reaction and commutation.
UNIT – VII Speed control of D.C. Motors:
Speed control of d.c. Motors: Armature voltage and field flux control methods. Ward-Leonard system. Principle of 3 point and 4 point starters – protective devices.
UNIT – VIII Testing of D.C. Machines:
Testing of d.c. machines: Losses – Constant & Variable losses – calculation of efficiency – condition for maximum efficiency Methods of Testing – direct, indirect and regenerative testing – brake test – Swinburne's test –Hopkinson's test – Field's test – Retardation test – separation of stray losses in a d.c. motor test.
ELECTRICAL MACHINES – II
UNIT-I Single Phase Transformers – Construction & Operation:
Single phase transformers-types - constructional details-minimization of hystersis and eddy current losses-emf equation - operation on no load and on load - phasor diagrams.
UNIT-II Single Phase Transformers – Performance:
Equivalent circuit - losses and efficiency-regulation. All day efficiency - effect of variations of frequency& supply voltage on iron losses.
UNIT-III Testing of Single Phase Transformer and Autotransformer:
OC and SC tests - Sumpner's test - predetermination of efficiency and regulation-separation of losses test-parallel operation with equal and unequal voltage ratios - auto transformers-equivalent circuit -comparison with two winding transformers.
UNIT-IV Polyphase Transformers:
Polyphase transformers - Polyphase connections - Y/Y, Y/∆,∆/Y,∆/∆and open∆, Third harmonics in phase voltages-three winding transformers-tertiary windings-determination of Zp, Zs and Zt transients in switching - off load and on load tap changing; Scott connection.
UNIT-V Polyphase Induction Motors:
Polyphase induction motors-construction details of cage and wound rotor machines-production of a rotating magnetic field - principle of operation - rotor emf and rotor frequency - rotor reactance, rotor current and pf at standstill and during operation.
UNIT-VI Characteristics of Induction Motors:
Rotor power input, rotor copper loss and mechanical power developed and their inter relation-torque equation-deduction from torque equation - expressions for maximum torque and starting torque – torque slip characteristic - double cage and deep bar rotors - equivalent circuit - phasor diagram - crawling and cogging
UNIT-VII Circle Diagram of Induction Motors:
Circle diagram-no load and blocked rotor tests-predetermination of performance-methods of starting and starting current and torque calculations.
UNIT-VIII Speed Control Methods:
Speed control-change of frequency; change of poles and methods of consequent poles; cascade connection. injection of an emf into rotor circuit (qualitative treatment only)-induction generator-principle of operation.
ELECTRICAL MACHINES – III
UNIT – I Construction and Principle of operation:
Constructional Features of round rotor and salient pole machines – Armature windings – Integral slot and fractional slot windings; Distributed and concentrated windings – distribution, pitch and winding factors – E.M.F Equation.
UNIT-II Synchronous Generator Characteristics:
Harmonics in generated e.m.f. – suppression of harmonics – armature reaction - leakage reactance –synchronous reactance and impedance – experimental determination - phasor diagram – loadcharacteristics.
UNIT – III Regulation of Synchronous Generator:
Regulation by synchronous impedance method, M.M.F. method, Z.P.F. method and A.S.A. methods –salient pole alternators – two reaction analysis – experimental determination of Xd and Xq (Slip test) Phasor diagrams – Regulation of salient pole alternators.
UNIT – IV Parallel Operation of Synchronous Generator:
Synchronizing alternators with infinite bus bars – synchronizing power torque – parallel operation and load sharing - Effect of change of excitation and mechanical power input. Analysis of short circuit current wave form – determination of sub-transient, transient and steady state reactances.
UNIT – V Synchronous Motors – Principle of Operation:
Theory of operation – phasor diagram – Variation of current and power factor with excitation –synchronous condenser – Mathematical analysis for power developed .
UNIT-VI Power Circles:
Excitation and power circles – hunting and its suppression – Methods of starting – synchronous induction motor.
UNIT – VII Single Phase Motors:
Single phase Motors: Single phase induction motor – Constructional features-Double revolving field theory – Elementary idea of cross-field theory – split-phase motors – shaded pole motor.
UNIT – VIII Special Motors:
Principle & performance of A.C. Series motor-Universal motor – Principle of permanent magnet and reluctance motors.