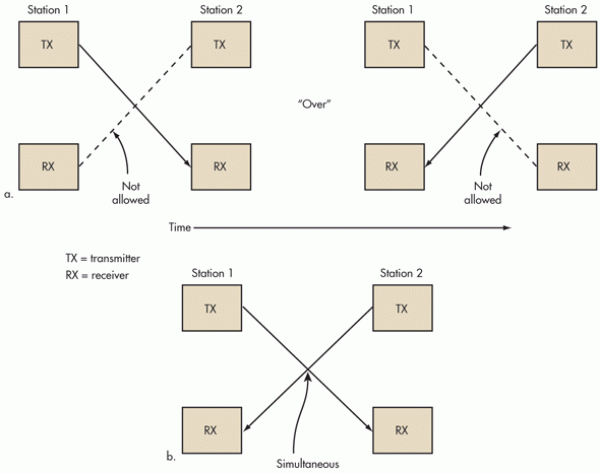 Duplexing
A duplex communication system is a point-to-point system composed of two connected parties or devices that can communicate with one another in both directions. "Duplex" comes from "duo" that means "double", and "plex" that means "structure" or "parts of"; thus, a duplex system has two clearly defined data transmissions, with each path carrying information in only one direction: A to B over one path, and B to A over the other. There are two types of duplex communication systems: full-Duplex and half-Duplex.
In a full duplex system, both parties can communicate with each other simultaneously. An example of a full-duplex device is a telephone; the parties at both ends of a call can speak and be heard by the other party simultaneously. The earphone reproduces the speech of the remote party as the microphone transmits the speech of the local party, because there is a two-way communication channel between them, or more strictly speaking, because there are two communication paths/channels between them.
In a half-duplex system, there are still two clearly defined paths/channels, and each party can communicate with the other but not simultaneously; the communication is one direction at a time. An example of a half-duplex device is a walkie-talkie two-way radio that has a "push-to-talk" button; when the local user wants to speak to the remote person they push this button, which turns on the transmitter but turns off the receiver, so they cannot hear the remote person. To listen to the other person they release the button, which turns on the receiver but turns off the transmitter.
In wireless communication system, it is often desirable to allow the subscriber to send simultaneously information to the base station while receiving information from the base station.

This effect is duplexing.
Frequency Division Duplexing
Frequency-division duplexing (FDD) is a method for establishing a full-duplex communications link that uses two different radiofrequencies for transmitter and receiver operation. The transmit direction and receive direction frequencies are separated by a definedfrequency offset.
FDD provides two distinct bands of frequencies for every user.

A device called a duplexer used inside each subscriber unit and base station to allow simultaneous bidirectional radio transmission.
Time Division Duplexing
Time Division Duplex. TDD uses a single frequency band for both transmit and receive. Then it shares that band by assigning alternating time slots to transmit and receive operations (Fig. 3). The information to be transmitted—whether it's voice, video, or computer data—is in serial binary format.
TDD uses time instead of frequency to provide both forward and reverse link.

In TDD multiple user share a single radio channel by taking turns in time domain.

We do not need any duplexing device.